Get Straighter, Whiter Teeth With Dentiq Dentistry
Our team at Dentiq Dentistry is dedicated to giving our patients an effective and affordable option for renewing their smile, realigning crooked teeth, eliminating gaps, or helping reshape your teeth to give you the smile of your dreams.
Dental Veneers can help you solve a variety of dental concerns, putting you on the path to a better, brighter smile. We'll help you discover if Dental Veneers are the right fit for you -- and if there's another option for a cosmetic procedure to help you achieve your goals, we can provide those options, too! We're proud to offer a safe, comfortable, modern space where people from across Houston can get high-quality dental care.
Or you can simply fill out the short form below and we'll reach out about setting up a personalized dental care plan just for you!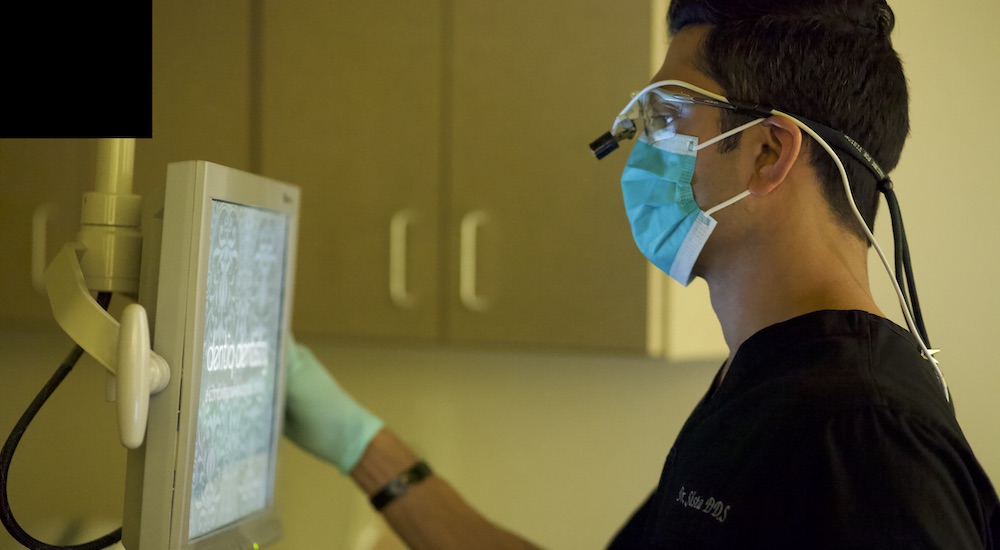 Dental Veneers Are A Simple Solution
Once you schedule your consultation, we will work with you to determine if Dental Veneers are a good fit for your needs. From whitening your teeth to realigning crooked teeth, Dentiq Dentistry is here to help you feel proud of your smile. We are Houston's top choice for providing Dental Veneers and fulfilling all your cosmetic dentistry needs.
Dental Veneers can offer you:
A brighter, healthier smile - Staining and discoloration are common dental problems. Whether the discoloration was caused by time, coffee, or a little too much red wine, Veneers will help provide long-lasting whiteness to your smile.
Restoration of chipped teeth - Dental Veneers offer a painless, non-invasive way to correct chipped teeth and restore your confidence in your smile. Reclaim that natural, pearly-white look with the help of Dental Veneers!
Eliminate gaps - If there's a gap between your two front teeth, or any other cosmetic spacing problem you want to address, Dental Veneers are an effective, fast, and non-invasive way to get the smile you want. Ultra-thin "smile shapers" will fill in the gaps without harming your original teeth.
Alignment of crooked teeth - Braces can be difficult and inconvenient, but Veneers provide a painless and quick way to get that perfectly-aligned smile you've always wanted. There's no need to endure the embarrassment or time-consuming ordeal of getting braces... Dental Veneers can correct your smile in as little as two short visits!
A reshaped smile - Having small or misshapen teeth can be a point of anxiety for some. With Dental Veneers, you can simply place a protective layer over your teeth that will prevent damage and allow you to reclaim your smile.
Renewed dental work - If you have old dental work such as crowns or bridgework, Veneers can easily be placed over top of existing structures to give you a beautiful, natural-looking smile.
Find The Whitening Option That Works Best For You
While Veneers can often be the first thing that come to mind when you think about brightening your smile, Whitening can also offer that smile of your dreams. At Dentiq Dentistry, we offer multiple Whitening options to meet your unique needs. Our team here in Houston can provide professional guidance and safe, sustainable Whitening solutions.
Our Whitening options include:
Rapid In-Office Whitening: Looking for a quick and easy option that will give you a sparkling smile? Come see us for a rapid whitening that can improve your smile in just a matter of minutes. We offer on-going appointments for long-lasting improvement.
At-Home Whitening Trays: If you're ready to work teeth Whitening into your daily routine, our take-home trays are the perfect option to provide sustainable improvements that are safe and healthy. Our professional-grade bleach treatments can improve your smile in as little as two weeks.
Get The Most Comprehensive Cosmetic Dentistry Options in Houston!
Our team at Dentiq Dentistry is happy to work with you to give you the best possible solution to your dentistry needs. Call and schedule a consultation, and we will help you determine whether Dental Veneers, Teeth Whitening, or another cosmetic option is right for you. Don't get caught up in anxiety about your smile -- enjoy everything Houston has to offer!
If you have questions, feel free to fill out the short form below and we'll contact you about your individual needs!